Welcome!
We are an independent non-commercial business club funded by membership and sponsorship.
There are two key aims behind BCBC: one is to represent the interests of businesses in the United Kingdom and Croatia; and the second is to help businesses grow and connect, both nationally and internationally.
A Note From The Chairman
As we embark on the success of the British Croatian Business Club, I envisage a network of business people with a common goal to centralise, fortify and mobilise the business not only within Britain and Croatia, but globally. As a hub of international business support, we will provide a forum for discussion and negotiation to facilitate business growth for BCBC Members all over the world. With the ascension of Croatia into the EU, a wealth of opportunities will emerge, unprecedented in their potential. The BCBC will be here to support business that will flourish from this opportunity. We will be here to strengthen relations and build understanding between the business networks of Britain and Croatia across a broad scope of important factors including protocol and regulations.

Franko Cetinich
Chairman
Trade Visits enable you to learn more about the country visited, enjoy its culture and explore potential business opportunities. LSCC has excellent business and tourism related contacts in both countries. During the 5 days we will spend there, you can choose on an individual basis the daily emphasis you wish to place on these. If you are interested in participating, please contact our BCBC General Secretary, Michael English.
COBCOE Conference, Thursday 27th April 2017
Disruptive technologies: innovation and digital transformation in business
With keynote speaker Mr Rajesh Agrawal, Deputy London Mayor for Business, this half day trade conference will explore the ways in which digital transformation is breaking down the barriers to international business and changing the ways in which business is carried out. The conference is free to representatives of COBCOE members, affiliates and partners. Venue: ICAEW, Chartered Accountants' Hall, Moorgate Place, London EC2R 6EA. If you would like more information or have any special requirements, please contact:
adam.szpala@cobcoe.eu
The Croatian British Economic Forum
Hotel Esplanade, Zagreb on Thursday, 2nd March 2017
The goal of the Forum is to serve as an inspiration and business platform for exploiting the potential offered by the Experience Economy. The Forum organisers are the British Embassy in the Republic of Croatia and the UK Department for International Trade (DIT) in partnership with the Ministry of Tourism of the Republic of Croatia, the Croatian Chamber of Commerce, the British Business Centres in Croatia and Filipovic Business Advisory.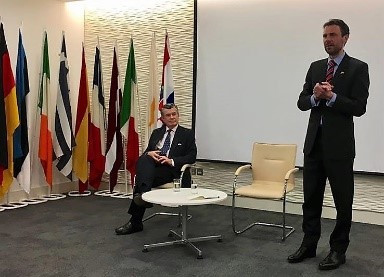 H.E. Andrew Dalgleish
, the UK's Ambassador to Croatia, at Europe House in London in February 2017, talked about his impressions of Croatia after taking up his appointment in the summer of 2016. Ambassador considered the relations between Croatia and the UK to be excellent and saw significant potential for future deepening of bilateral cooperation in a number of relevant sectors.