Evening of tradition and celebration!
Gala Dinner has taken place on 25th May 2013 in the Battersea Arts Centre. Many distinguished British and Croatian guests including diplomatic and business representatives attended the Gala Dinner as part of the closing ceremony.
The Worshipful Angela Graham was an Honorary Guest at the Gala Dinner, where she gave a speech of support to the club, announcing her visit to Croatia, together with her representatives from the Chamber of Commerce. The Croatian Ambassador to London His Excellency dr.sc. Ivan Grdesic and British Ambassador to Croatia His Excellency David Slinn evaluated the Fair as a unique opportunity to create a long lasting relationship between British and Croatian companies within the European market.
In his speech, the President of the BCBC, Mr. Franko Cetinic expressed his gratitude to all of the Club's supporters. He announced that the club will continue to work as a platform for the exchange of ideas, business opportunities and culture between Croatia and the United Kingdom.
The Gala Dinner was a great success with many distinguished guests from Croatia and the United Kingdom who enjoyed a wonderful atmosphere sampling Croatian gourmet cuisine, and wines from the Winery Belje. Jamnica, as one of the main sponsors, provided Croatia's world renowned fine water while guests enjoyed delicacies prepared by Chefs from the restaurant Les Pontes, Zagreb.
Grand Hall, Battersea Art Centre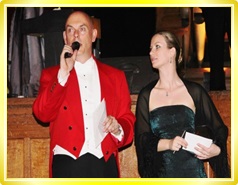 Ceremony Speaker Mark Lennard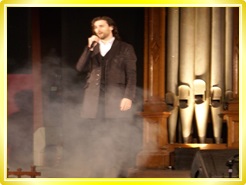 Stijepo Gled Markos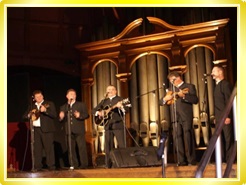 Klapa Bonaca
Katarina Jenc & Martin Pulic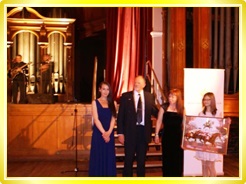 Auction of Art-graphic by Charles Billich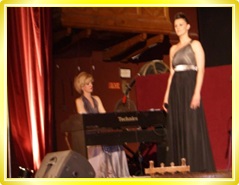 Gordana Pavic & Nera Gojanovic
Gala Dinner Tickets
Payment can be made by credit or debit card or by bank transfer to the British Croatian Business Club account 81274465 at HSBC' branch King Street, London W6 0QF, sort code 40-06-15, with your name as the reference. Info:020 84088787
We offer special discount for pensioners and students at price £ 30 .
Please confirm your status by sending us an e-mail to:
info@bcbc.org.uk